Ada sedikit masa lagi sebelum paper seterusnya pada 1 December 2010. Lama lagi? Yea agak lama. Hahaha... Tapi aku dah mula cuak dengan paper ni. Takut seyh tak dapat score. Mahu aku kecundang di tengah jalan. Harapan aku nak naikkan pointer aku untuk semester ni. Hope so leh buat. Hehehe....
Sejak minggu peperiksaan bermula, aku bermaustatin di Tradewinds, bilik Mimi. Kenapa? Sebab aku tahu aku tak boleh nak study kalau berseorangan di bilik. Bukan nak cakap tak jealous tengok rumate aku study, cuma rasa sunyi sangat. Aku perlukan life and situasi yang ceria untuk study. Bukannya senyap, sunyi sepi. Pernah jugak la kena sound few times dengan rumate sebab bising. Then, simpan dalam je la. Hahaha...
Tadi aku survey handphone baru. Ha, buat yang tak tahu, aku sangat minat gadget. Itu yang dah rasa bosan dengan hp sekarang. Huhu... Hp yang aku aim untuk sebelum penghujung tahun depan ialah...... Jeng jeng jeng.. Hahaha... Saja nak buat suspen je kan. Hahaha....
Inilah idaman kalbu aku. Nokia N8.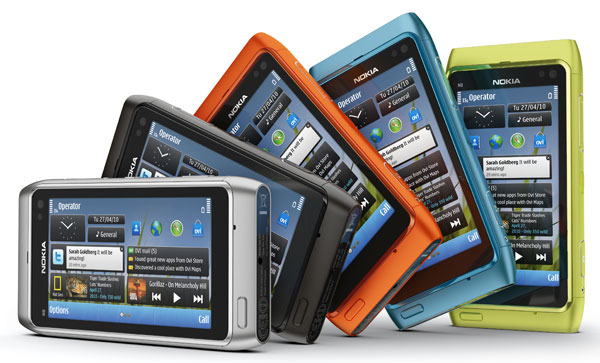 Nokia N8 ada beberapa warna pilihan, tetapi bergantung pada negara jugak. Aku nak aim untuk warna biru atau silver or black. Smart!!
Ini pulak view dari bahagian depan. Nak cari bahagian belakang takda gambar. Kalau nak tengok, sila usha ke web Nokia yea.
Antara specifications yang ada pada Nokia N8 yang membuatkan aku berkenan.
Dimensions
Size: 113.5 x 59 x 12.9 mm

Weight (with battery): 135 g

Volume: 86 cc
Display and user interface
Screen size: 3.5"

Resolution: 16:9 nHD (640 x 360 pixels) AMOLED

16.7 million colours

Capacitive touch screen
Keys and input methods
Physical keys

Finger touch support for text input and UI control

On-screen alphanumeric keypad and full keyboard
Personalisation
Up to three customisable home screens

Customisable profiles
Memory
Internal memory: 16 GB

MicroSD memory card slot, hot swappable, up to 32 GB
Applications
Calendar, Contacts, music player, internet, messaging, photos, Ovi Store, Maps, Videos, WebTV, Office document editors, Video & photo editor, Mail, Chat, Radio

PC Applications: Nokia Ovi Suite, Nokia Ovi Player
Email and messaging
Easy-to-use email client with attachment support for images, videos, music and documents .doc, .xls, .ppt, .pdf, .zip

HTML support for email

Unified email client for multiple protocols: Yahoo!® Mail, Gmail™, Windows Live™, Hotmail and other popular POP/IMAP services, Mail for Exchange, IBM Lotus traveler

Editing of key office documents

Email web widget for home screen

Chat instant messaging support: OVI Chat, Yahoo, AIM, Windows Live, Gtalk, MySpace*

Unified MMS/SMS editor

Conversational view for SMS

Push email and expanded portal support available through Nokia Messaging for Email and Instant Messaging
Call management
Contacts: advanced contacts database with support for multiple phone and e-mail details per entry with personal thumbnail pictures and video clips

Speed dialling, voice dialling (speaker independent) and voice commands

Logs of dialled, received and missed calls

Conference calling

Integrated hands-free speaker

Video calling
Browsing and internet
Full web browsing of real web pages

Web browsing with touch control

Supported markup languages: HTML, XHTML MP, WML, CSS

Supported protocols: HTTP v1.1, WAP

TCP/IP support

Visual history, HTML and JavaScript support

Flash Lite 4 will support a majority of Flash Player 10.1 content

Nokia Mobile Search

RSS reader

Support for streaming video
GPS and navigation
Integrated GPS, A-GPS receivers

Ovi Maps with free car & pedestrian navigation

Wi-Fi Positioning

Compass and accelerometer for correct orientation of display

Use Nokia Ovi Suite to get the latest country maps for Ovi Maps on N8 for free
Camera
12 megapixel camera with Carl Zeiss optics

Fullscreen 16:9 viewfinder with easy-to-use touchscreen parameters

Xenon flash

Face recognition software

Autofocus

Focal length: 5.9 mm

F number/Aperture: F2.8

Still images file format: JPEG/EXIF

Zoom up to 2x (digital) for still images

Zoom up to 3x (digital) for video

Secondary camera for video calls (VGA, 640 x 480 pixels)
Image capture
Automatic location tagging (Geotagging) of images and videos

Images automatically taken in the correct orientation

Pinch zoom in Photos image viewer

View photos by tag cloud, month, album, slide show

Photo editor

Online Share with connectivity to popular sharing services
Other
Internal memory: 16 GB

MicroSD memory card slot, hot swappable, up to 32GB

High-Speed microUSB to PC connectivity
Video cameras
12 megapixel with Carl Zeiss optics

HD quality 720p resolution

Shoot 16:9 videos in HD

Video capture in 720p 25 fps with codecs H.264, MPEG-4

Settings for scene, video light, white balance, colour tone

Secondary camera VGA for video calls
Music features
Flick scroll to browse the albums in your music collections

Nokia Music Player

FM transmitter
Gaming
Use the touch UI to play games

Dedicated graphics processor with OpenGL 2.0 enables 3D graphics

Java games

Use the accelerometer to play games
Specs nie semua aku copy paste dari web
Nokia
. So, kalau korang nak tahu full specs, silalah ke laman web tersebut. Huhu... Specs2 yang aku list kat sini antara reason kenapa aku nak aim hp ini sebelum penghujung tahun depan. Doa2lah kalau aku dapat beli hp ini tau. Tak sabar nak kumpul duit nak beli hp ni.
p/s:semua gambar adalah ihsan Encik Google yea..kecuali yang dimension untuk hp..itu dari ENcik Nokia...
lots of love,
[Miss Eriqa]